Available Courses
We're on a mission to make investing in our emotional and mental wellbeing something to brag about. We've created an approachable, modern and totally relatable style of therapeutic coaching, workshops and programs that connect, make sense, and create big shifts for intentional people like you. Here you'll find a variety of digestible courses to be taken on your own schedule and at your own pace without ever having to leave your house. These courses provide relatable, professional guidance on a number of popular issues to help you make sense of what's going on in your life.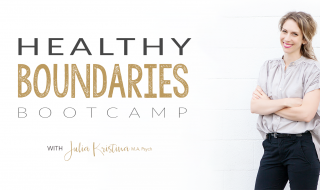 The Healthy Boundaries Bootcamp
Learn tools that allow you to say what you want, think, need and feel without feeling guilty, damaging relationships or worrying about being judged or rejected. 
"This is the most thoughtful course I've ever done online. It's changed the way I see myself… Boundaries have brought me freedom."
-Teresa B.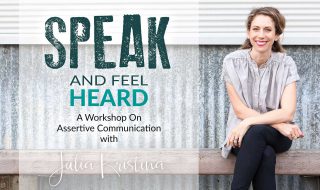 Speak & Feel Heard Crash Course
A crash course on assertive communication full of simple, effective strategies to speak confidently. If you find yourself hesitant to communicate your thoughts and needs for fear of offending someone or being dismissed, this course is for you.
This course jumped out at me because I'd been feeling really overwhelmed and that my voice, needs and ideas  weren't being heard. Everything taught in this course made so much sense and I now feel empowered and ready to assert myself in any situation."
– Karen H.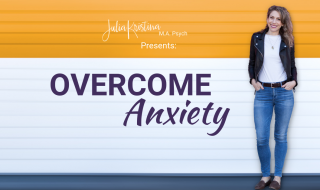 If you're someone who has EVER felt like your anxiety is getting in your way and holding your back,  start learning exactly how to manage your anxiety so it can stop controlling you!
"This program has taught me so many tools and lessons to make my life feel manageable and happier. I don't wish I was someone else anymore, like I used to. I am forever grateful"
– Shannon M.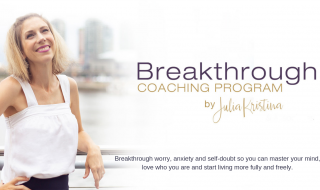 The Breakthrough Coaching Program
Imagine feeling calm, confident, and in charge of your emotions. The Breakthrough Coaching Program will teach you how to rewire your overwhelmed and anxious brain, and finally break free from worry, anxiety and self-doubt.
"With the tools I learned in the program, I was able to discover what was going on inside of me…I highly recommend the program, it will change your life."
-Terry C.
FAQs:
– How long do I have access to the courses? Your course purchase includes lifetime access, including any future updates that are made to a course.
– How long does each course take to complete? Each course is self-paced and can be done in your own time, on your own schedule. The course content and time required to complete varies by course and that information can be found in the details page per course.
– If I would like to take multiple courses, is there a specific order in which I should take them? No, each course is a stand alone, however the content of each compliments the information provided in the others.
– If I do not feel that the course helped me, do you offer refunds? Yes, we offer a 14 day 'Do The Work' money back guarantee on each course. This means that if you have completed the course and all coursework, and still feel that it did not provide you with the help you were looking for, we will offer a full refund.
– Who do I contact if I am experiencing technical issues or having trouble accessing the course? If you are experiencing any issues at all, reach out to hello@juliakristina.com