Speak and Feel Heard Seminar
An Effective and Assertive Communication Live Online Seminar
With Julia Kristina, M.A. Psych.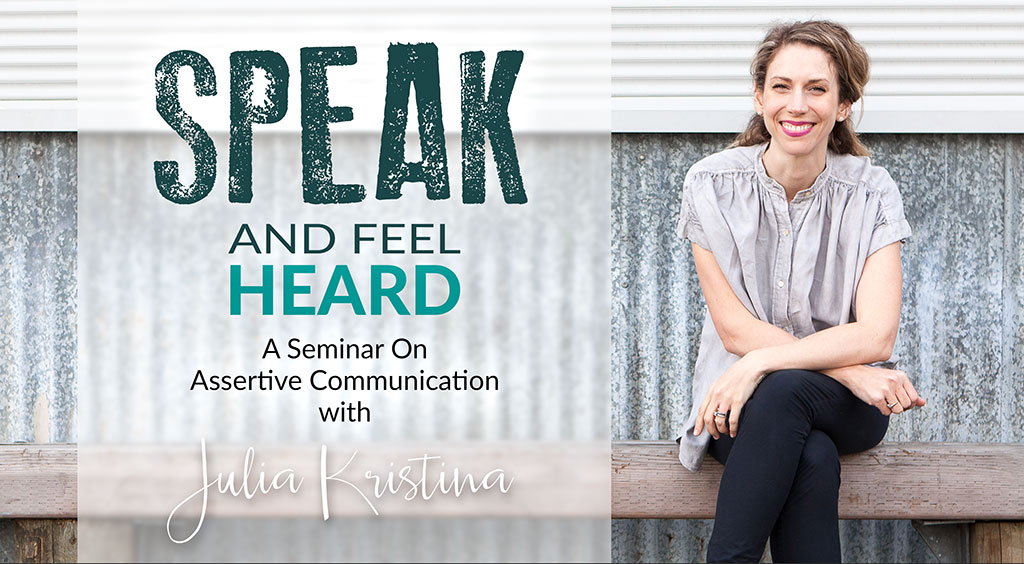 Do you ever wish you could speak with more confidence?

That you could use your voice to say what you're REALLY thinking or feeling?

That you could speak up more often and share your wants, needs, and preferences?

That you knew how to say things in a way that people would hear and respect?

That you could express yourself openly without people ignoring or dismissing you?

That you could stand up for yourself in a way that was both clear and kind?

That you could say what you're thinking without coming across as selfish or insensitive?
If you've ever thought or felt any of these things, you are in the exact right place.
You have a voice, and it's important. You have thoughts, ideas, opinions, preferences, and a say that needs to be expressed. For the sake of both your relationship with yourself and with others. For your self-confidence. For your sense of personal empowerment. To feel good about who you are, you need to be sharing that voice in a way that feels GOOD and RIGHT for you.
We all deserve to speak and feel heard. And in this training, I am going to teach you how.
As a clinical therapist, life coach, and trained communication expert, everyday I teach people how to communicate in a clear, impactful and meaningful way. I teach people how to find and use their voice. And I now I want to teach you.
In this seminar you will learn
The 6 different communication styles

What your typical communication style is and how to change your mindset to have more healthy and assertive communication

How to get clear on what you want to say and how you want to say it in a way that is both heard and respected

What your rights are as a communicator and what other people's rights are as guideposts to lead you as you communicate more effectively and assertively

The magic formula for expressing yourself in a way that others really listen to and respect

The simple step-by-step process for asserting yourself thoroughly and getting the outcome you want

14 Easy and Effective Assertive Tools and Techniques that cover any situation (personal, professional, relational…)

A LIVE Q&A at the end where you'll be able to ask any questions you have and get my feedback your your specific communication struggles. (People often say my Q&A's are just as valuable as my seminars themselves, so you won't want to miss this one!)

A Speak and Feel Heard Key Points Guide (so you can quickly and easily access all the new skills and tools you learned)

You'll also get the FULL recording of the seminar and the Q&A to keep whether or not you are able to be there live.

 The single most important SECRET of effective communication that will transform the outcome of every situation you encounter
$197  $97 For a limited time
Thursday September 21st at 11:00 am PT (2:00 pm ET)
*Even if you can't make it live, the FULL RECORDING of the seminar will be given to everyone
I loved the course! I appreciated the communication breakdown. Learning to become more assertive is difficult. The course was broken down in such a way, the material could easily be digested and implemented right away.
I loved how precise Julia is! Everything she says is so clear and she gives real life scenarios that makes things so simple to comprehend and apply.
Where to start…You are someone who has immense knowledge and skill with effective communication and you broke it all down for me. You stay on point. You speak in everyday language so it's easy to understand what you're talking about instead of people that use big words and sound all lofty. I'd definitely give this course a 10 on a 1-10!
For someone stuck in "people-pleasing" mode, Speak and Feel Heard provides new ways of thinking to remind ourselves that we are people, too. That our thoughts and preferences matter, along with the thoughts and preferences of others.
Do not hesitate to take this course! Speak and Feel Heard is filled with education to help you understand how different people communicate and how you can learn to communicate assertively. Julia Kristina is a fabulous instructor. I am confident my new knowledge will improve my assertiveness and understand the behavior of others as well. I am also happy to use my new skills to teach my children how to better communicate. Learning how to be the best person I can be for myself, husband, and children is a priority of mine. Speak and Feel Heard helped me do just that.
Julia Kristina Counselling & Coaching • JuliaKristina.com