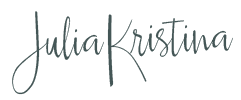 Julia Kristina, M.A. Psych Presents:
Healthy Boundaries that Transform
Live on Monday, October 24, 2016
A free live* class with Julia where you will learn:
How to say 'No' without feeling guilty

How to take care of yourself without feeling selfish
How to feel much more in control and at ease in all areas of your life
How healthy boundaries work to increase your confidence and self-esteem

And things you can start doing right now to decrease your stress and overwhelm
Boundary setting can feel really challenging sometimes, but in this class I will teach you how to start having them in a way that feels good and right for you.
*You will get the most out of the training, and there will be an opportunity to get access to another free course if you show up live, but if you can't make it live, register for either option & I will plan to send you the replay.